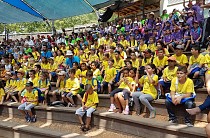 Summer Peace Camp of Open House Ramle 2016 -
The OPEN HOUSE Summer Peace Camp enriches the educational and recreational possibilities for Arab and Jewish children. The Summer Peace Camp enables Jewish and Arab youngsters to break down stereotypes of one another; to better understand each others' identity, language and culture; and...


Continue Reading >>
Massa – Masar 2016 – The Journey -
From March 13th – 16th, a group of 30 Israeli teenagers embarked on a Journey to engage with diversity and become closer together. The unique opportunity of this Journey rests in the fact that our teenagers represent Muslim, Jewish, and Christian faiths. Their...


Continue Reading >>
Therapists for Peace -
Applying Virginia Satir's Model to creating mutual curiosity and developing partnership between Palestinian-Arab and Jewish citizens of Israel.


Continue Reading >>
The Story of the House

OPEN HOUSE was created as a result of a unique encounter between the Arab family that lived in the house before 1948 and the Jewish family that came to inhabit it afterwards.
Continue Reading >>
Quick Links:

Dalia's Open Letter to Bashir
From The Jerusalem Post, January 14th, 1988.


The Lemon Tree - by Sandy Tolan
The book that chronicles the history of the house in Ramle.


Interfaith Program for the Empowerment of Women as leaders in their respective communities.