Greeting for the Jewish New Year
---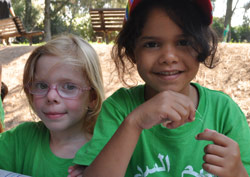 Dear Friends of Open House,
For this coming year, we extend to you blessings of health and joyful creativity!
We at Open House had an intense and satisfying summer with 103 Jewish and Arab children in our summer camp aged six to thirteen.
Below is a link to a video clip of our 6-year-olds putting on a show to the song "Yachad"–Together.
Together, heart to heart, we will open new light in the sky…when the heart opens, it embraces the world…it is not too late if we believe.
We wish to share with you, our dear friends, a beautiful letter we received from the parents of Yael, who participated in our summer camp this year for the first time.
Today, several weeks after the end of the summer camp, with added perspective, we wish to thank you for an enjoyable, safe and cohesive summer camp, which our daughter Yael had the privilege to attend.
Moreover, the possibility to create a direct encounter with children from another culture/language/customs and perspectives has contributed to Yael's openness and acceptance of the other. This is not a trivial privilege in the present Israeli reality.
As inhabitants of this land which is full of contradictions, controversies and gaps, we have an obligation to make every possible effort to bridge the differences which separate us.
You have made it possible for the children to meet each other in an enjoyable way which has left them with the desire for "more". This good learning experience will deepen the desire in their hearts to get to know and accept the other before prejudice/rumor/stigma spoil the basis for cooperation.
Our heartfelt thanks to the administration and staff, the counselors and everyone who took part in the organization of the summer camp and did it in the best possible way. Thank you for the investment, the dedication, the personal attention to each child, the professionalism and the endless caring.
In the hope of continued enjoyable encounters in the future,
Vered and Eyal Hay
Mishmar Ayalon
Shalom, Salaam, and Shanah Tovah (Happy New Year) from Dalia, Khader, Vivian, Miriam, Raphael, Bissan, Lamis, Majda, Johanna, Andriana and all of us who work and volunteer for Open House in Israel and around the world, including the Friends of Open House team in the U.S – Yehezkel, Richard, Randy, Gary, Danya, and Diane.
For updates, photos and videos from our activities and latest events, you're welcome to pay a visit to our website: www.friendsofopenhouse.org.