Masa Masar 2015 – The Journey
---

Here is a group of thirty high school students from two schools, a Jewish and an Arab, participating in Masa-Masar – The Journey. They were together for four days between the 7th and the 11th of May, 2015.
Massa-Masar-Journey Program – May 7-11 / 2015
"This Journey changed me, I will always ask questions. I will try to help everyone. I don't promise but I will listen and try. It is important to hear before you judge." (16 year old participant)
A group of 30 Jews, Muslim and Christian youth (17 years old) and facilitators in a 4 days Journey to visit and learn together about the diverse communities that live between Ramle and Jerusalem.
Working together
The Pluralistic Spiritual Center (PSCC) at Wahat al Salam-Neve Shalom together with the "Open House" in Ramle have been focusing their efforts on developing youth leadership through its Massa – Masar program. This program works with high school age Jewish and Arab youth, in different forums, with the goal of building leadership by giving participants the tools, knowledge and confidence to meet and work with the 'other'.
We formed a partnership with the Givat Brenner High School (Jewish) and the Christian Orthodox (Arab), in Ramle. We began working in these schools on March 2015 with their 11th and 12th grade classes.
"I will start telling people that all Jews aren't evil, some Jews want peace" (17 year old participant)
The purpose is to deepen learning through experience, and strengthen values such as self-respect, respect of the other, equality between people and groups, social justice, respect of nature and the environment, and taking responsibility for the society we live in. All of this is done in the intergroup context of relations between Arabs and Jews in Israel. The self-knowledge acquired through this journey, will contribute to dialogue, building mutual respect and peace between Jewish and Palestinian youth, and society in general. The Massa-Masar program is led by experienced Jewish and Arab facilitators.
The Massa-Masar program incorporates seminars and meetings to explore identity. It includes outdoor nature exploration and meetings with different groups including other high school students. Work with the students begins in each of the high schools where Jewish and Arab facilitators meet with the Jewish and Arab youth separately, exploring with them issues of religion, identity and the Jewish-Arab relations, preparing the youth to meet the 'other'.
"I was on a journey in the past with people but it was not like this Journey – these were different, special people" (16 year old participant)
The Process was based first on having several separate meetings with each group in their own school. Then we meet in a daylong meeting at Wahat al Salam-Neve Shalom, where the Jewish and Arab youth get to know each other through social activities, workshops and seminars.
2 week later we all started a Journey of 4 day, 3 night outdoor nature exploration which included traveling and hiking through the country visiting different places between Ramle and Jerusalem, meeting various people,diverse communities and visiting different historical sites. In each place, people shared their stories about the place and their lives, helped the group to better understand the area and Realities they live in.
The program was filmed providing a brief documentary of the project.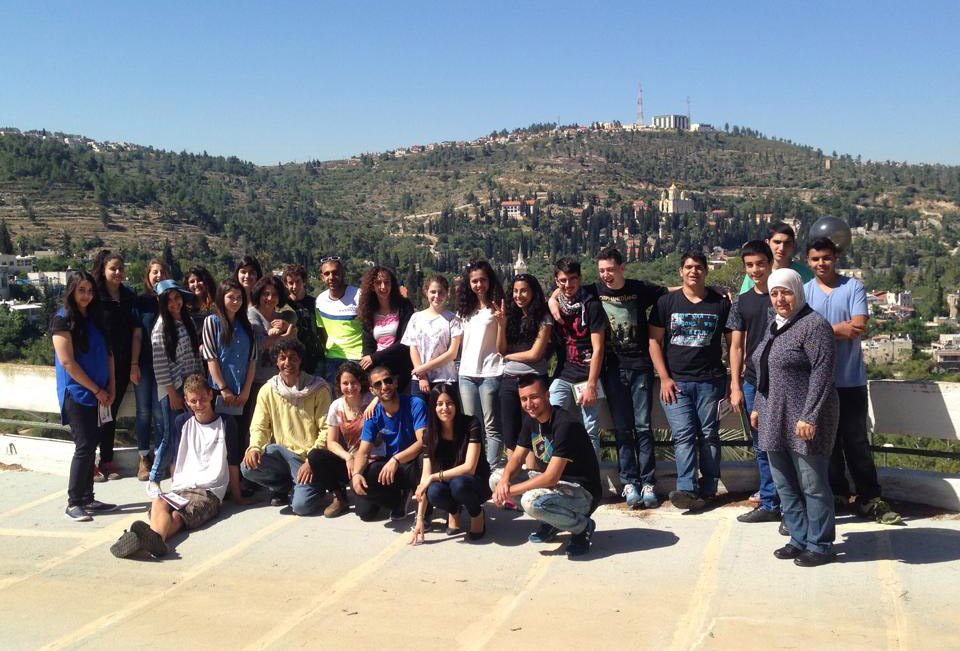 "I would like to meet with more Arabs. I would like to live in a mixed city, step by step. I don't think this would totally solve the conflict, but hatred does not have to be a part of it" (16 year old participant)
In our Journey we visited the orthodox school in Ramle, the old city of Ramle where we were hosted in the home of the local artist, Nihad Dabit, we heard the story of Dalia at Open House, we visited the Karaite community in their synagogue in Ramle; we travelled to Jerusalem and slept there, held sessions of reflection after a day of walking in Jerusalem, which included meeting with an ultra orthodox Jewish woman in Mea shearim who shared with us what it is like growing up in the ultraorthodox community; we visited Sheikh Jarakh and listened to young activists who live there; we visited the Ethiopian Church in Jerusalem and talked with people from the community; we met with the monks and nuns of the Monastery of Latrun, we met with the Imam of the big mosque in the Arab town of Abu Gush; we visited Nataf, an intentional community of observant and non observant Jews where we met with their Rabbi.
Finally, we had a full day and 2 nights in Oasis of peace for reflection and learning about the shared community of Arabs and Jews who live together there.
Through this process the youth discovered together, more about themselves, their neighbors and their communities; the varying human components and the physical space we live in.
A month after the Journey we initiated a heartwarming meeting.This time in Givat Brenner School. The youth just wanted to hug and share experiences and stories.
Peace was fully present in the room.
"There is hope. It Proves that we can live together, it's not that hard."(16 year old participant)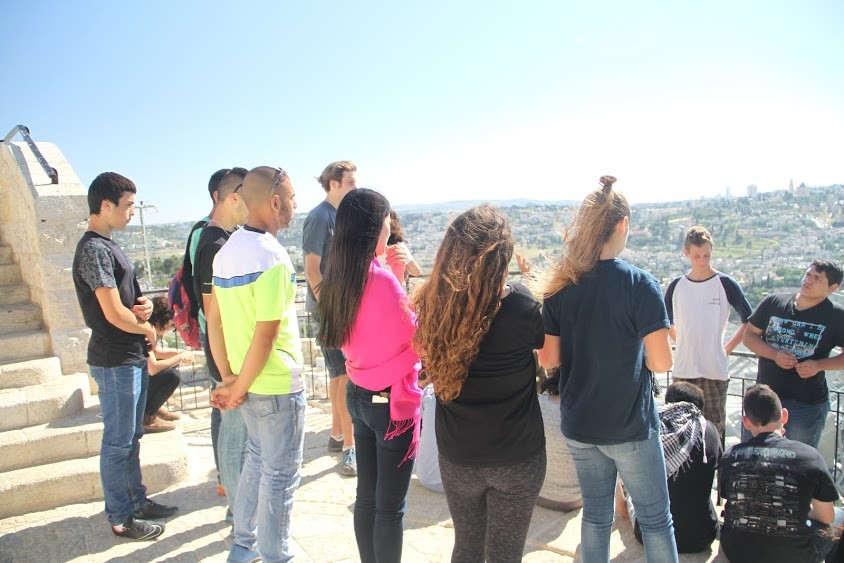 Written by Elad Vasana, Masa-masar, facilitator.