2013 Summer Peace Camp
---
The OPEN HOUSE Summer Peace Camp has been running for 22 consecutive years. By now, we have gained a lot of experience about how to melt fear and prejudice, which manifests more strongly the older a person is. This is why we choose to work with youth, and through them to reach their parents. The Peace Camp is geared to 6-to-12 year olds, and it is divided into different age groups, normally with two leaders, an Arab and a Jew, responsible for each group. Due to our experience and the deep investment in fun and learning, many parents register their children at the end of one summer camp for the next in order to assure their place. This continuity is very important for the children, who also have opportunities between summers to meet each other for special events at Open House and to deepen friendships.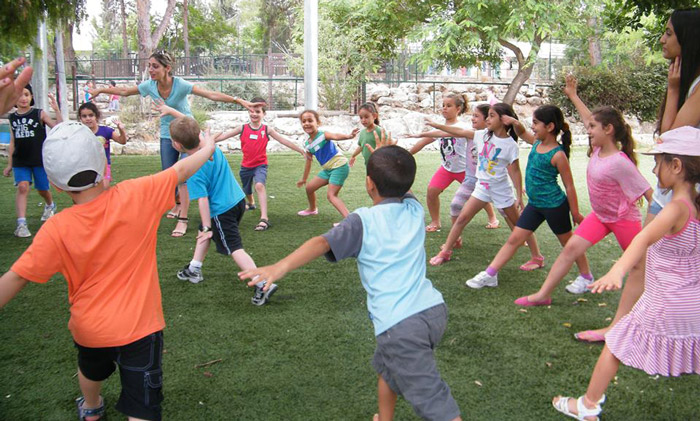 This year, we closed the registration at 80 (about half Jewish and half Arab) in order to have effective transportation from Ramle and Lod and from the villages of Beit Hashmonai, Kfar Shmuel, Mishmar Ayalon, Carmei Yosef, and Tal Shachar, as well as the town of Modi'in. (Busing from such spread-out locations demands meticulous logistical planning, accompanying staff, and safety measures).
In this year's Peace Camp program, we gave extra attention to language, with campers learning several words in Arabic and Hebrew each day in accordance with a chosen topic. These topics included universal issues like health and ecology, yoga and meditation, world music and world dance, ancient cultures (like ancient Egypt, with its costumes, hieroglyphics, and myths), and a visit to the large park of  Neot Kedumim, where campers learned about the ancient agriculture used in Biblical times by the peoples of this land. A visit to the Safari Park in Ramat Gan brought to light the beauty and vulnerability of the animals and our obligation to protect them.
In addition, a trip to a water park, a 3-D movie, team sports that encourage cooperation and the swimming pool at Neve Shalom/Wahat as-Salaam are part of what the children are looking forward to, and they are not disappointed.
Since Ramadan began during the Peace Camp, it was a great opportunity to experience the sacred month (without the fasting). We prepared kata'yef, a traditional cake for iftar (the evening meal breaking the daily fast). We created the traditional torch, fanous Ramadan, and heard traditional stories about the meaning and traditions of this central Muslim practice.
Parents who work asked us to engage their children until 4pm. We accommodated this request in a relaxed afternoon atmosphere with educational films and games and, of course, a nutritious meal.
At the end of the three weeks, we had a party with children and parents. Each age group prepared a performance with music and dance, and some had the courage for standup comedy. Around a potluck meal the parents got to know each other.
After the party, we eight leaders and four organizers, together with Open House Co-directors Khader Al Kalak and Dalia Landau, met for our own assessment of the Peace Camp at Samir's restaurant in Ramle.
Our summer camp is being evaluated by two outside evaluators, an Arab and a Jew. We look forward to learning from their professional insights, in order to improve the camp program in the future.
— Written by Vivian Rabia (Program Director) with Dalia Landau
A letter from Yael's parents
To Vivian, Dafna and the whole summer camp staff,
First of all, thank you for the successful summer camp and the meaning that it carried for our Yael.
According to Yael, this year's summer camp was successful and enjoyable according to all parameters: interest, friends, counselors, food, sites, activities, trips and even busing.
Even more, Yael pointed out that despite the language barrier, she felt, with time, capable of approaching her Arab friends in the common activities, the games etc.
It is not a secret that our reality and our life in this country are complex, challenging and difficult in our relations with our Arab neighbors who are citizens of the State [of Israel].
We, the adults, are "infected" to a greater or lesser extent by all the illnesses of the conflict: prejudice misinformation, mistaken concepts etc. And this, because we have not received a full, truthful and balanced picture about our Arab neighbors.
Fortunately, thanks to your untiring efforts, you are giving the new generation the opportunity not to contract the illness…
You make it possible for them to get to know each other without barriers and misjudgment. Through play, fun, song, dance, they internalize that the other is similar and equal, is like me, only in a different language…
Vivian, Dafna and dear staff,
For a summer camp full of joy pleasure and challenge, and above all for the opportunity of encounter which allows the exposure and creates the understanding that despite differences in language, culture and custom, we are all equal and alike—we are all children..
Thank you,
Vered and Eyal Hay
Mishmar Ayalon
| | |
| --- | --- |
| | |